Overcoming Mediocrity – Epic Women
A Unique Collection of Stories from Epic Women Who Have Created Their Own Lives of Significance!
The Confidence of Yes: How to Harness the Energy of Opportunity
Knock! Knock! Opportunity is knocking at your door. Are you going to open the door and say YES? Or are you going to let the opportunity pass you by? Opportunity, like time, waits for no one; it passes by quickly. What are you going to do?
Welcome to The Confidence of Yes, an inspiring book about seizing unexpected opportunities. This book encourages women to continue to share their experiences based on saying "YES."
In her book, The Confidence of Yes, Michelle Mehta, #1 International Best-Selling Author, and Confidence Expert, brings together 12 women from various nationalities, careers, and backgrounds to share their journey on what made them open the door to their dreams.
With each experience, The Confidence of Yes provides step-by-step guidance and action steps.
Each of these 12 women's stories is genuine and handcrafted with bravery. They've overcome adversity, broken the glass ceiling, and used their influence to encourage others in the community to never give up, no matter how difficult the journey.
Follow the steps, learn, and implement The Confidence of Yes strategies. When you say YES to your sole purpose, you will find passion. A "Confidence of YES" awaits you on the other side.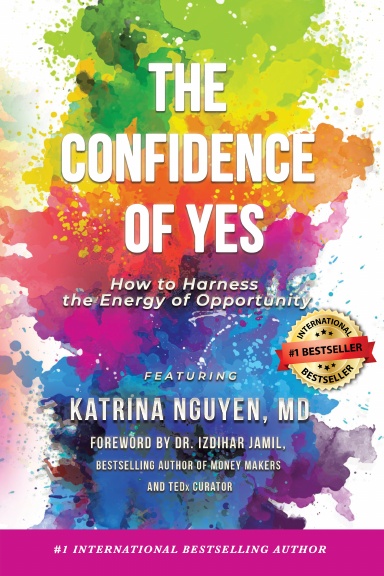 featuring Katrina Nguyen, MD
Live to Give: An inspirational memoir about freedom, faith, and selflessness
"My family's refugee experience in the United States—having to rebuild our lives from nothing—is what drives me to help the poor as often as I am capable."
Rescued from a small fishing boat off the coast of Vietnam in 1975, Kim-Doan Katrina Nguyen and her family soon found themselves starting over in America, with little more than their work ethic and their faith in God to sustain them. Bolstered by her beliefs and her desire to thrive, Nguyen ultimately realized her dream of becoming a physician, specializing in pediatric gastroenterology. Today, her deep faith is evident in her ever present mission to help others, no matter the circumstance. Live to Give is Nguyen's reflection on a life of determination and devotion, marked most importantly by her gifts of time, talent, and treasure to make the world around her a better place.
Read this article published in the December 2020 issue of Legatus magazine by author Dr. Nguyen on childhood obesity.
https://legatus.org/news/battling-the-bulge-trimming-obesity-in-children